Geographical Location: Great Falls to the Pinawa Dam Provincial Heritage Park. Treaty 1 & Treaty 3.
Length: 41 km / 26 miles
Trail Types: natural trail, gravel trail, gravel road, paved road
Trail Activities: hike, bike, horse, ski, snowshoe
---
---
The Blue Water South Trail heads south from Great Falls, alternating between the man-made dyke system and Hydro transmission roads until it reaches the town of Lac du Bonnet. The route continues south along municipal roads, then exits onto a wilderness trail that connects to the Blueberry Rock hiking trails. The Blueberry Rock hiking trails are favoured by locals for the granite rock ridges, lookout tower that provides a view of the Winnipeg River, picnic tables, firepits, and accessibility to the town of Lac du Bonnet. Heading further south, the trail follows a municipal road, until it meets PR 313, where it heads east across the Winnipeg River Bridge and onto Old Point Road for approx. 4.7km. The route then heads south and meanders through the Lee River Wildlife Management Area, that brings trail users through boreal forest and rock outcroppings, providing ample opportunities for wildlife viewing.
The Trail exits the Lee River Wildlife Management Area and heads due east until it meets up with the Pinawa Dam Provincial Heritage Park. The Pinawa Dam site contains what remains of the first year-round operating hydroelectric generating station in Manitoba and is located midway between the towns of Pinawa and Lac du Bonnet on the Pinawa Channel. Once a thriving community, it is now a popular spot for visitors to enjoy swimming, hiking, paddling, and exploring history through a self-guided walk. The Blue Water South Trail is part of the Borders to Beaches Recreational Trail Project that connects the Manitoba-Ontario border to the beaches of Lake Winnipeg.
CAUTION:
Great Falls Generating Station - this trail crossing is subject to frequent closures. For up-to-date information, you are asked to contact MB Hydro via email: WCE@hydro.mb.ca or to call (204)-360-4235.
When following roadways, trail users should always remain on the shoulder (may not be paved). It is recommended that you only use roadways during daylight hours and under appropriate weather conditions.
ONLINE RESOURCES:
https://tctrail.ca/explore-the-map/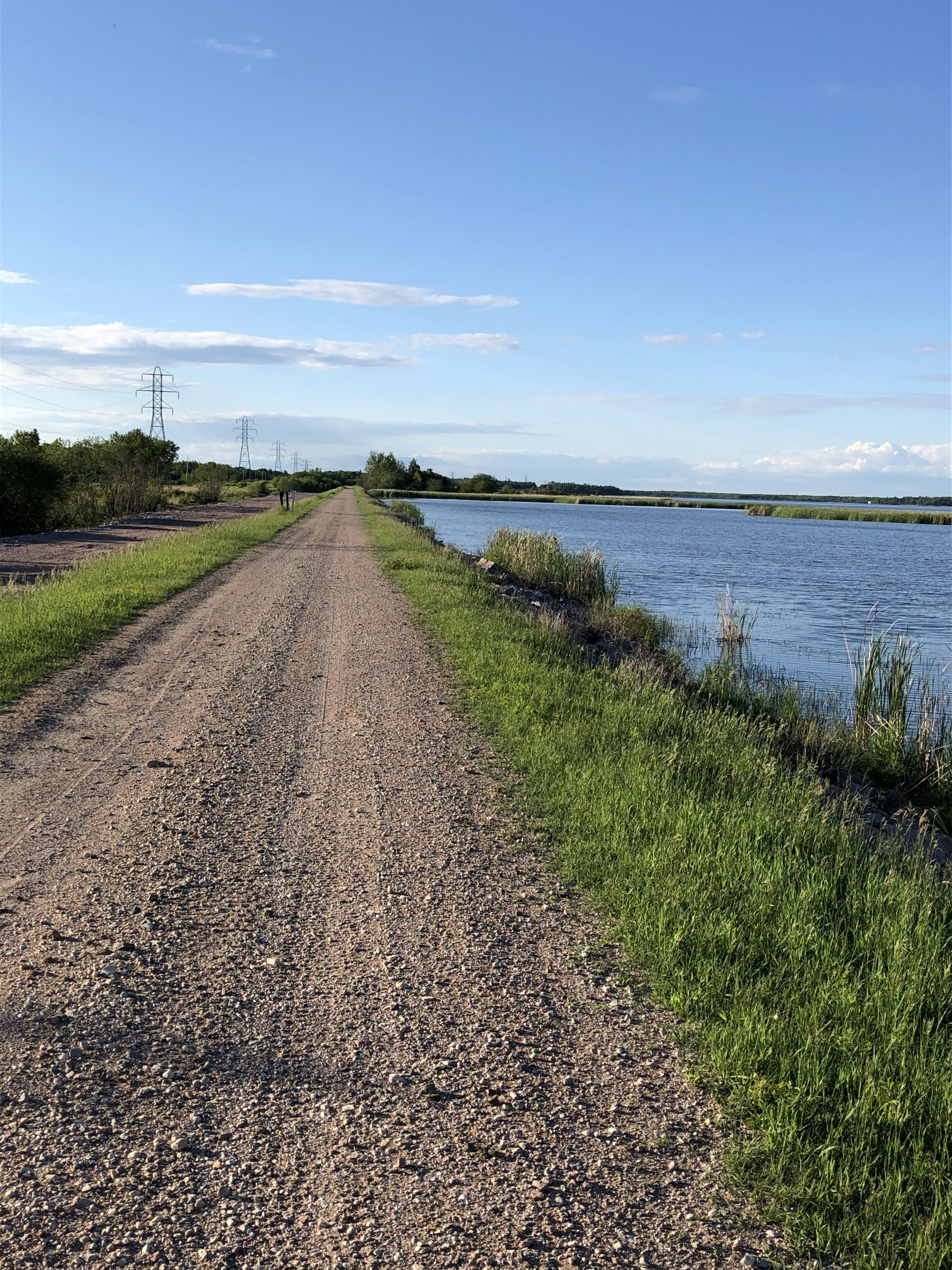 Photo by: Kathy Picard